Prince William & Kate Look Sharp In Yellowknife, Next Stop: Slave Lake 7th day of 9th day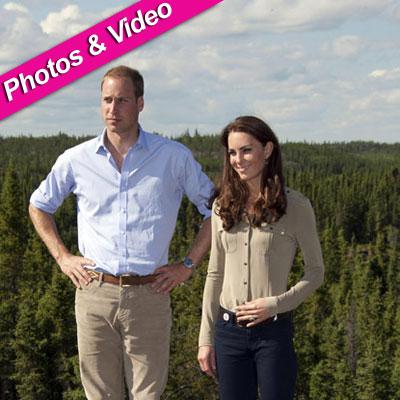 By Adam S. Levy - Radar Staff Writer
The Duke and Duchess of Cambridge, Prince William and Kate, will visit on Wednesday Slave Lake, the Alberta town left in shambles by a devastating wildfire this past May.
The trip to Slave Lake was a last-minute addition to the official itinerary because the couple wanted to make sure that their visit wouldn't interfere with ongoing recovery efforts, their staff said.
Article continues below advertisement
The town is still rebuilding after the wildfire - fanned by powerful winds - swept through the community on May 15, forcing the evacuation of all 7,000 residents.
The couple will meet with firefighters, rescue crews and about 50 of the families who lost their homes.
"It's pretty humbling that they would take the time to talk to the people that stayed and fought the fire," said volunteer fire chief Jamie Coutts, who is compiling a list of 10 firefighters to meet Prince William and Kate.
"It's pretty amazing they would stop in and talk to us about that."
The royal couple will also tour the worst of the fire-devastated neighborhoods.
On Tuesday, the royals visited gorgeous Yellowknife of the Northwest Territories.
"This place is what Canada is all about -- vast, open beauty, tough, resilient, friendly peoples, true nature, true humanity," the prince told locals during a welcoming ceremony at Somba K'e Civic Plaza. "We've already sensed the extraordinary potential of this region and the irrepressible spirit of adventure that marks the people of the territories and defines the land.
Article continues below advertisement
"We are so excited to be here."
While in Yellowknife, the royals visited with members of the Canadian Ranger Patrol Group at Blachford Lake, then with First Nation villagers.
The recently-married couple then took a canoe ride to, ironically, Honeymoon Island, where they settled down in tents for the night.
The royals begin their much anticipated three-day trip to California on Friday, and RadarOnline.com will be there to capture all of the action for you.