Exclusive
Mila Kunis: I Had A Butt Double In Movie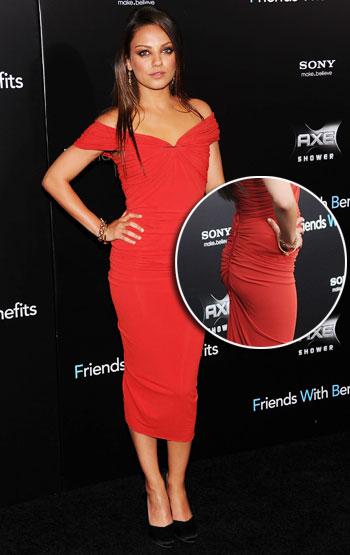 - Radar Senior Reporter
Sorry guys, that super sexy butt you see in the movie Friends With Benefits doesn't belong to Mila Kunis.
The 27-year-old star of the upcoming film told Ryan Seacrest that she just wasn't ready to show off her butt on film.
"I showed side boob and I figured I can't just give everything all away at once," Mila said on 102.7 KIIS FM. "I gotta let it all out in little pieces here and there."
Article continues below advertisement
Starring in the romantic comedy with Justin Timberlake, Mila admitted that they hired a butt double for her nude scene.
"These young ladies came in and they were in a casting room, the director and the casting director and my makeup artists and these lovely women had to show us their derrière and we chose the one that resembled my body the most without looking like it is fake."
Mila also dished on her guilty pleasure -- reality TV shows and says her invitation to the Marine Ball was "endearing" in her interview with Ryan.