Los Angeles Laker Andrew Bynum Allegedly Caught In Handicapped Parking Scandal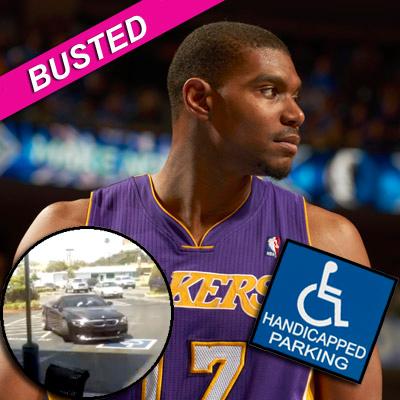 by RadarOnline.com Staff
As the starting center for the Los Angeles Lakers, it's safe to say Andrew Bynum is able-bodied...so why does he feel the need to park in handicapped spots?
A new report from Los Angeles-based NBC4 shows video and photos of Bynum parking his BMW in between two handicapped spots, while picking up groceries at Bristol Farms Market in Playa del Rey, California.
Article continues below advertisement
Bynum, who missed 28 regular-season games with various ailments last season, does not have a handicapped parking designation on his license, the station reported. If caught, the 7-foot-tall baller, who earns $14 million annually, would be subject to a fine of $353.
Bynum, who's teammates with Kobe Bryant and Lamar Odom, did not comment to the station when reporter Joel Grover asked his reaction to the photos of his car parked illegally.
MORE ON:
Los Angeles Lakers