Lady Gaga Dishes On Cooking, Recording On Her Bus, And (Egads!) If She Had A Straight Kid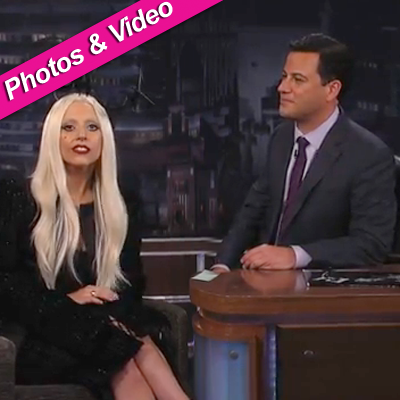 By Adam S. Levy - RadarOnline.com Staff Writer
With five Grammy Awards, 12 million Twitter followers and more than 25 million albums sold, it's safe to say Lady Gaga's done pretty well for herself the past few years -- so what does she think was the key in becoming the pop star of her generation in such a short time frame?
"I think the reason ... is that I'm not very good at listening in life," the Telephone singer said in her appearance on Jimmy Kimmel Thursday.
Article continues below advertisement
Gaga, who made her late night TV debut on Kimmel's show in 2008, dropped a few other interesting nuggets: she's great at cooking "gravy" (i.e., tomato sauce); she'll record music on her tour bus if she feels inspired creatively; and that she's known to cook pasta for her crew while chain-smoking cigarettes.
"You get a little extra spice there when the cigarette butt falls into the sauce," Kimmel joked.
"Yeah, it's pepper!" the Judas singer said.
Watch the video on RadarOnline.com
Later in the chat, Kimmel asked the Born This Way singer, who's a passionate advocate for the Gay community, "What if one of your children grew up to be not gay; Would you still love that child?"
"No," she jokingly said as the audience laughed.
In the appearance, Gaga performed her singles The Edge of Glory, and You and I.