Exclusive
Will And Kate To Visit America's Homeless Capital, Skid Row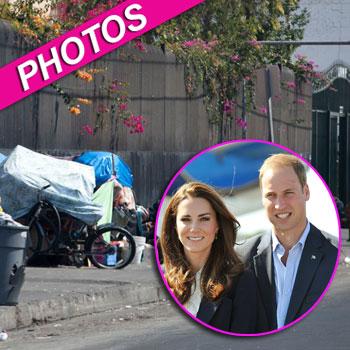 It's a far cry from Buckingham Palace!
The Duke and Duchess of Cambridge are touching down in Hollywood Friday afternoon, but it's not all glitz and glamor for the pair as they plan a trip to one of the seediest neighborhoods in Los Angeles and RadarOnline.com has photos of the run down area.
The Royal couple will divert from the polo fields of Santa Barbara to pay a visit to impoverished 'Skid Row' where homeless people and drug addicts line the littered streets.
Article continues below advertisement
The newlyweds will visit Inner-City Arts an academy which provides free performing and visual arts to children in property stricken neighbourhoods.
But while they will be safely getting ensconced inside the building, partaking in painting and ceramic classes, outside it will be a very different story.
Skid Row is the nation's homeless capital with 4,000 people wandering the 50-square block area, located in Downtown. People are forced to camp outside in dirty tents and cardboard boxes as shelters are overflowing.