Exclusive
Kat Von D Explains Jesse James Tattoo 'A Way Of Him Recognizing Somebody Loves Him'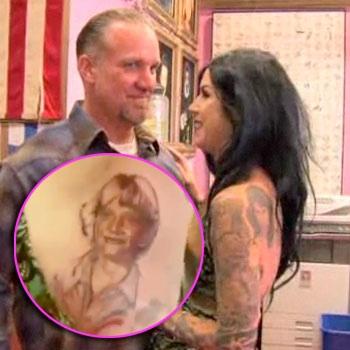 Talk about unfortunate timing!
Kat von D immortalized her fiancé's face on her body, tattooing a childhood picture of the bad boy biker on her rib cage - just shortly before Jesse James unceremoniously dumped her.
On Thursday night's episode of Kat's reality show, L.A. Ink she explained what prompted her to get the tattoo - obviously oblivious to the heartache that was to come.
"He had a rough childhood, so to see what he's become from there, it's amazing," she said. "That's why I wanted the picture of him as a child, to capture that certain innocence. It was good having him beside me while we finished. The tattoo is a way of him recognizing somebody loves him."
Article continues below advertisement
Kat and Jesse started dating last August, shortly after his July 28 divorce from his Oscar winning wife, Sandra Bullock. They announced their engagement just five months later.
As RadarOnline.com exclusively revealed the couple was embroiled in a bitter fight over another woman just shortly before announcing their split on Monday.
According to an eyewitness, Jesse and Kat had a verbal argument outside of her Los Angeles, Calif. home Monday afternoon before Kat finally told him to leave.
"They were outside and I could hear them fighting. Kat kept throwing some woman's name out and arguing about how she didn't like him living so far away," the source exclusively told RadarOnline.com.
"Jesse finally said, 'Fine, f**k you!' and sped away on his motorcycle. Kat sat in her Bentley with her head on the steering wheel for about three minutes before finally driving away."
As RadarOnline.com was first to report, Kat announced her split from Jesse on her Twitter account saying, "I am no longer w Jesse, and out of respect for him, his family and myself, thats all the info I'd like to share. Thanks for respecting that."
Article continues below advertisement