How Alex Trebek Injured Himself Chasing a Burglar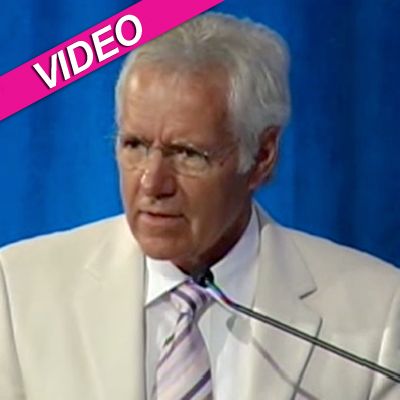 On Friday, Jeopardy! host Alex Trebek will undergo surgery for a snapped Achilles tendon he suffered while chasing a woman who broke into his hotel room in San Francisco and robbed him early Wednesday.
Trebek, 71, was in The City by the Bay to host the National Geographic World Championship at Google's headquarters in nearby Mountain View, California.
Trebek and his wife were asleep in their room at the Downtown Marriott on Wednesday when he woke up around 3 am and spotted a woman in his room. As he tried to chase her down, he fell down, snapping his Achilles tendon and injuring his other leg in the process.
Article continues below advertisement
The stolen items - purses and wallets - were found near an ice machine in the hotel. Trebek says the thief also stole a bracelet of sentimental value, which remains missing.
Trebek gave the hotel's security a detailed description of the woman and they tracked her down.
The suspect -- identified by San Francisco police as Lucinda Moyers, 56 -- was arrested on charges of felony burglary and possession of stolen property.
Police don't know how Moyers got into Trebek's room and say she was not armed.
Watch the video on RadarOnline.com
Trebek, who's hosted Jeopardy! since 1984, said he'll be in a cast for six weeks following the procedure.
We'll wish you a speed recovery for $200, Alex.