Experts: Amanda Knox's DNA Not On Knife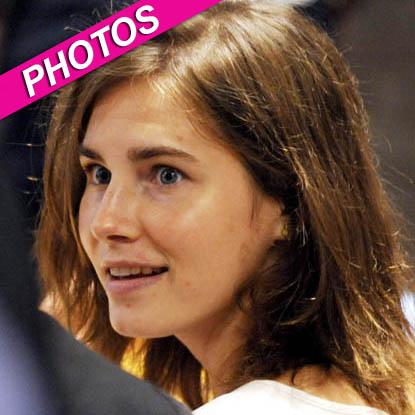 American exchange student Amanda Knox may be a step closer to freedom.
In a stunning revelation during her appeal hearing in Perugia, Italy on Monday, two independent analysts rejected the prosecution's claims of finding DNA on two crucial pieces of evidence used to convict Knox, 23, of murdering her British roommate, Meredith Kercher, 20.
Knox, a student from the Seattle area, was convicted along with her former boyfriend Raffaele Sollecito of stabbing Kercher to death in November 2007 in Perugia, Italy, where both girls were spending the year studying.
Article continues below advertisement
Knox -- who had steadfastly maintained her innocence since her arrest -- received 26-years behind bars for the crime.
Knox sat quietly in court Monday as the two DNA experts testified they found no DNA or blood on the blade of a knife found in Sollecito's kitchen -- prosecutors had claimed the knife was in fact the murder weapon. During the trial, prosecutors claimed that the knife had DNA from both Knox and Kercher on it.
The experts also told the court that there was no DNA on Kercher's bra clasp that was recovered from the crime scene six weeks after the murder. Prosecutors had argued that the clasp contained Sollecito's DNA, an important piece of evidence that placed him at the scene of the gruesome crime.
The independent experts also testified that the investigating team violated numerous protocols for the proper collection of DNA evidence.
Article continues below advertisement
A verdict on her appeal is expected to be given September 25.
"I am definitely more hopeful that when this is all over that here in September that she will be coming home with us, absolutely," Knox's mother, Edda Mellas, told ABC News.
Knox defense team has argued that a third person who was also convicted of the murder is the real killer. Drifter Rudy Guede was convicted of the murder in a separate trial and is serving a 16 year prison term.