Amanda Knox Trial: Two Witnesses Come Forward In Her Defense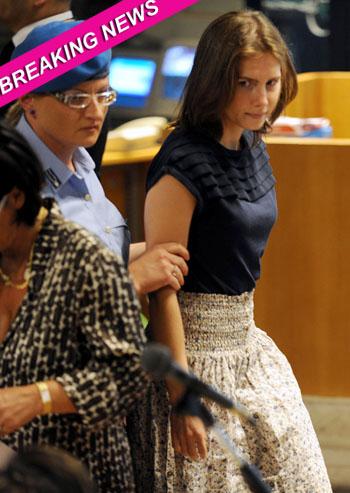 RadarOnline.com Staff Reporter
Amanda Knox caught a break Saturday when two inmates stepped forward to testify that she was not involved in the murder for which she is being held in an Italian prison for.
In 2009, Knox, 23, was sentenced to 26 years in jail after being convicted of sexually assaulting and murdering British student Meredith Kercher.
Although two witnesses tried to clear Knox's name on Saturday, they may not be deemed credible witnesses as they're both in prison themselves -- Mario Alessi, serving 30 years for killing an 18-month-old boy and Luciano Aviello, a mafia member.
Article continues below advertisement
According to Alessi, Rudy Guede (sentenced to 16 years for his involvement in Kercher's murder) told him Knox had nothing to do with the murder but that it was instead himself and another unidentified man.
Amanda Knox In Tears As She Appeals Her Murder Conviction
Yet through his attorneys, Guede has denied the version of events that Alessi relayed.
Once Aviello got on the stand he testified that it was in fact his own brother who had committed the heinous crime against Kercher with an Albanian man.
During his testimony Aviello gave conflicting versions of his story, but basically said that his brother came home with scratches and while he was cleaning him up, he confessed the murder to him.
The defense then put a third inmate on the stand.
Marco Castelluccio, a mafia member who is a protected witness, testified that Guede also told him that Knox had nothing to do with the murder.
Guede is expected to testify on June 27 as the appeals process continues.