Jenny McCarthy And Jason Toohey Reunite For Lingerie Basketball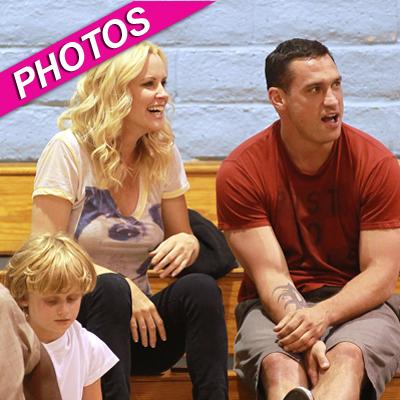 Jenny McCarthy reunited with an old flame Friday night. We spotted the sexy blonde getting cozy with her ex, Jason Toohey.
The model-turned-actress, 38, was joined by Toohey, a former fitness model, to cheer on her sister JoJo as she competed in a game for the Lingerie Basketball League - a competitive women's only league in which the players wear sexy, underwear-inspired uniforms.
Jenny and Jason, who split in December 2010 after five months together, appeared very relaxed, sitting side by side and sharing a plate of nachos.
Article continues below advertisement
Jenny's son Evan, 9, also sat in the bleachers just in front of his famous mom.
Earlier this week it was revealed that Jenny has pulled her planned talk show from Oprah's OWN television network. The former Playboy model is said to be considering an offer from NBC.
RELATED STORIES:
Jenny McCarthy At 211 Pounds Is Baby Bump Seen Around The World