Dominique Strauss-Kahn Released From House Arrest Without Bail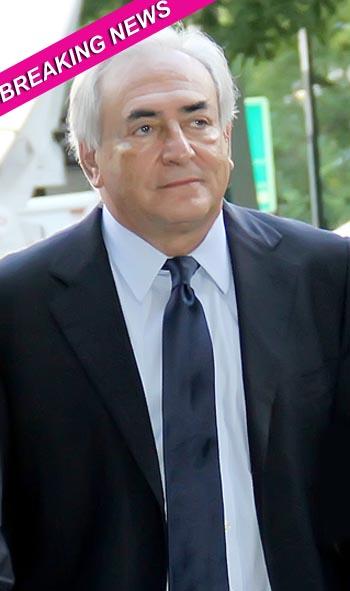 By Adam S. Levy - Radar Staff Writer
UPDATE: Dominique Strauss-Kahn was released from house arrest without bail following his hearing Friday afternoon, though the charges against him will still stand. He left the court with his wife, journalist Anne Sinclair.
The sexual abuse case against Dominique Strauss-Kahn has taken a dramatic turn in the last 24 hours, which should make for an explosive hearing when the former head of the International Monetary Fund faces a judge in a Manhattan courtroom Friday afternoon.
Article continues below advertisement
"There will be serious issues raised by the district attorney's office and us concerning the credibility of the complaining witness," his attorney Benjamin Brafman told The Wall Street Journal.
As we previously reported, Strauss-Kahn stands accused of sexually assaulting a maid at the Sofitel hotel May 14, and has pleaded not guilty to charges of attempted rape, sex abuse, unlawful imprisonment and forcible touching.
A source close to the case told the AP Thursday that the accuser, who claims she's from the West African nation of Guinea, has been caught in a number of lies regarding her background, and what she was doing in the hours before and after the alleged attack occurred.
The official declined to divulge extensive details not yet revealed in court, but did say the woman's application for asylum in the U.S. has glaring inconsistencies, including allegations she made -- and recanted -- that she'd been raped in Guinea.
Article continues below advertisement
"She actually recounted the entire story to prosecutors and later said it was false," the source said.
Another official told the AP that Strauss-Kahn might have bail and house arrest arrangements revised in the wake of the new revelations.
In May, Strauss-Kahn resigned from his position as the head of the International Monetary Fund, the organization that oversees global financial policy.
"It is with infinite sadness that I feel compelled today to present to the executive board my resignation from my post of managing director of the IMF," Strauss-Kahn said in a statement. "To all, I want to say that I deny with the greatest possible firmness all of the allegations that have been made against me ... I want to devote all my strength, all my time and all my energy to proving my innocence."
Article continues below advertisement
Strauss-Kahn, dubbed DSK in French press, has been given the nickname "The Great Seducer" for his well-documented way with the ladies. Until the recent incident, French media had tabbed the Socialist as a strong opponent to current President Nicolas Sarkozy in the country's presidential election next year.
Strauss-Kahn in May was released on $6 million bail and bond, and has been staying under house arrest in New York's Tribeca area under 24-hour surveillance.