Victoria & David Beckham Share Photos Of Baby Harper Seven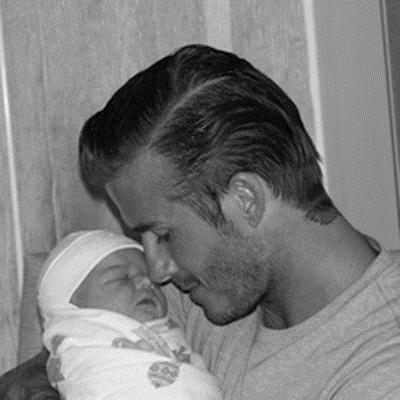 Victoria and David Beckham took to their social media sites to share photos of their new daughter, Harper Seven, and we can all just say "aaahhh" together.
Victoria snapped a picture of David and Harper together, captioned it "Daddy's little girl," and released it via her Twitter page.
Soccer superstar David returned the favor by shooting Victoria and her daughter, writing "I took this picture of my two girls sleeping."
Article continues below advertisement
The new dad already has a take on who his adorable daughter looks like, telling Hollyscoop.com, "Its a mixture of me and Victoria, she's a mixture of our sons as well, she's absolutely stunning. Victoria "is doing great, he added. "She's feeding great, she's healthy."
After three sons, the Beckhams had their first daughter on July 10.
And like a growing number of celebrities, they decided to beat the paparazzi at their own game by taking and releasing their own baby pictures for all their fans to see at once.