Music & Fashion Mogul Damon Dash Is A 'Dead-Beat Dad', Claims Former Girlfriend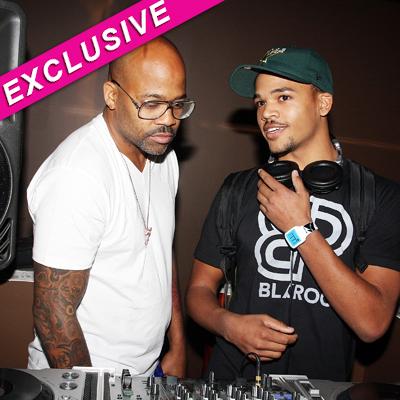 By Cliff Renfrew - RadarOnline.com Reporter
The mother of music and fashion mogul Damon Dash's son has branded him a "dead-beat dad", RadarOnline.com is exclusively reporting.
Linda Williams – who has a 19-year-old son (also named Damon Dash) – is battling her famous ex to pay court ordered payments of $425 per week to help support their son.
Williams claims that Dash Sr. - who once had an estimated fortune of $50 million – has also interfered with their son from going to college because this would mean he will have to continue to pay child support.
Article continues below advertisement
EXCLUSIVE DOCUMENTS: NY Family Court Filings Against Damon Dash
Williams told RadarOnline.com: "I just want Damon Dash to do the right thing by his son and pay his support and help me get him in college.
"My son got into Five Towns College in Dix Hills, NY, on a $30,000 scholarship recently to do music, but his father did not want him to go even though it would not have cost him anything.
"He keeps telling him 'tell your mom to drop the child support case and get out of court' when my son just wants to be a normal teenager and go to college.
"His father recently set him up with some DJ gigs in New York, and I'm worried that he falls in with a bad crowd and gets involved with drugs and alcohol.
"My son loves music and ideally he could do both. He does not hate his father or anything like that, but he wants more guidance from him.
"His father has the money he just needs to do the right thing by his son."
The feuding pair are due back in New York State Family Court at the end of August with Williams trying to ratify previous orders.
Article continues below advertisement
On April 6, 2010, Magistrate Cheryl Weir Reeves threatened to jail and seize Dash Sr.'s driving and business licenses, if he did not comply with previous rulings.
The back-dated payments of $425 per week to Williams were due to began on May 27, 2010.
Their original child support agreement in November 8, 1999, called upon Dash to pay her $3,766.67 per month in child support payments.
In addition, he was ordered to pay for his son's summer camp, tutoring fees, private school tuition, karate lessons, guitar lessons plus the quarterly sum of $1,000 as vacation expenses also.
Following a ten year relationship the couple never married and now Long Island native Williams, who is currently studying at college, no longer has any communication with Dash.
The Roc-A-Fella Records and Rocawear co-founder – who also has two daughters by ex-wife fashion designer Rachel Roy – has run into major financial problems in recent years.
Last year, two multi-million dollar lofts he owned in Manhattan, New York, went into foreclosure after he failed to make the $78, 500 per month payments on them.
Article continues below advertisement
According to the State of New Jersey's Division of Taxation, Dash is currently the second biggest debtor to the state, owing $23,073,227.56 in back taxes to New York and New Jersey.
But Linda Williams doesn't believe claims that Dash Sr. is totally broke.
She said: "At our last court appearance he admitted that he was paying between $10,000 and $12,000 per month for his home in Up-State New York, plus he has an art gallery and recording studio in Manhattan, so, he's hardly broke."