Casey Anthony Release: New Threats, Security Tight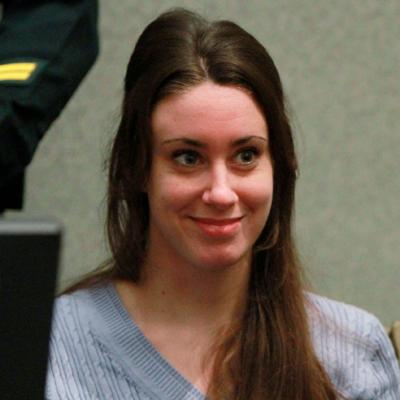 Casey Anthony is only hours away from being released from prison, and security around her is intense amid a growing number of threats.
There were seven new threats against her Friday, her attorney Jose Baez, who successfully defended Anthony against a first degree murder charge, revealed.
Anthony, 25, will be released from the Orange County Jail sometime after midnight. Barriers have already been put in place around the facility to keep the public away.
Article continues below advertisement
The Orange County Sheriff has arranged for three embedded reporters and photographers to capture in words and pictures what goes down at the moment Casey is released.
Sheriff's deputies will escort her to a pre-arranged location, where her own security team will take over protecting her.
Only then will the jail officially announce that she's a free woman, and the embedded journalists will be allowed to release their information and pictures.
In a shocking verdict, Casey was found not guilty of murdering her two-year-old daughter Caylee. She was convicted but is appealing four counts of lying to law enforcement. She is also facing several civil lawsuits.
Where will Anthony go? As RadarOnline.com has reported, she is estranged from her parents Cindy and George Anthony.
And Baez has shot down rumors that she was headed to his native Puerto Rico.
Article continues below advertisement
"I'm her lawyer. I'm not a relative," Baez said. "I'm assisting to a certain extent. There is not much beyond that I can do."
The Orange County Sheriff has also made it clear that his responsibility for Casey will end once his officers have delivered her a "safe distance" from the jail.
Come back to RadarOnline.com for more on Casey Anthony's release.
RELATED STORIES: