Casey Anthony Appealing Four Guilty Verdicts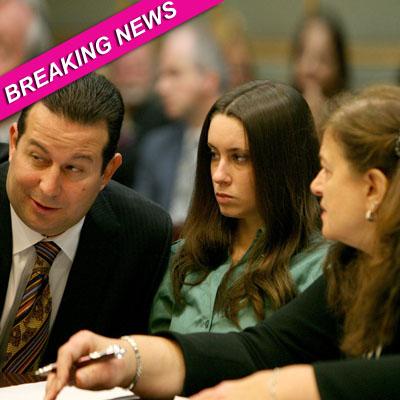 by RadarOnline.com Staff
Casey Anthony is appealing the four misdemeanor guilty verdicts she received for lying to the cops, RadarOnline.com has learned.
The 25-year-old Orlando, Florida woman was found guilty of misleading law enforcements by the very same jury that acquitted her of killing her 2-year-old daughter Caylee.
But on Friday, her lawyers filed a notice of appeal in an attempt to clear her of the four charges.
Article continues below advertisement
Anthony lied to deputies three years ago, when her daughter disappeared.
EXCLUSIVE: TV Producer Offers Casey $1M For First Interview – See The Check
She claimed she worked at Universal Orlando Resort in 2008, that she told her friends Caylee was missing and that she had spoken to her daughter on the phone on July 15 2008, when she was already dead.
Anthony also made shocking accusations that Caylee had been taken by her nanny Zenaida Fernandez Gonzalez.
The woman is now suing Anthony for defamation claiming she has never even met her accuser.
While Anthony was acquitted on the most serious charges of first degree murder, manslaughter and child abuse, she was convicted on four misdemeanor counts of providing false information to police officers. Judge Belvin Perry sentenced her to four years in prison and fined her $4,000.
This was shortened due to time served and good behavior.