Exclusive
A.J. Mclean And Rochelle Deanna Karidis To Have 'Craziest' Celebrity Wedding Ever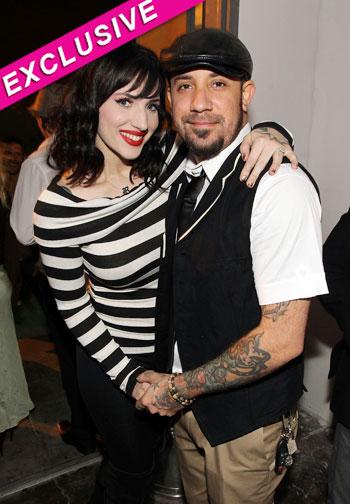 By Cliff Renfrew - Radar Staff Reporter
Celebrity photographer Tyler Shields has told RadarOnline.com that the wedding of Backstreet Boy A.J. Mclean and girlfriend Rochelle Deanna Karidis will be one of the craziest celebrity weddings ever.
Shields - who is a close friend of Mclean's – will preside as the minister at the December 17, ceremony that has been dubbed the "I Do Or Die wedding" between the pair.
Article continues below advertisement
Shields told Radar Online.com: "I'm much more nervous about being the minister than when I'm taking photographs of young Hollywood.
"But I can promise people there will be plenty of surprises and it will be one of the craziest celebrity weddings ever.
"A.J. is a friend of mine and I'm really pleased for them both and thrilled to be a part of their big day."
The couple is still busy planning the event which will include plenty of big name stars.
Millionaire performer McLean has credited long-time girlfriend Karidis as the person who helped him beat his drug addiction.
Mclean previously wrote on his Twitter account: "I really miss and love @rochelle_deanna you are my whole world and I cannot wait to spend my life with you. W out u here I am lost!"
The couple previously postponed their wedding date after A.J. checked into rehab earlier this year.
Article continues below advertisement
The singer proposed to Karidis while he was celebrating his 32nd birthday in a Las Vegas nightclub – but they have now sent out notices to family and friends to keep their new December date free.
The happy couple is going for a Moulin Rouge themed wedding and it's understood they will be serenaded by his fellow Backstreet Boys members Howie Dorough, Brian Littrell, Nick Carter and former band-mate Kevin Richardson.