PHOTOS: Best, Worst & Wackiest Fashions At The MTV Europe Music Awards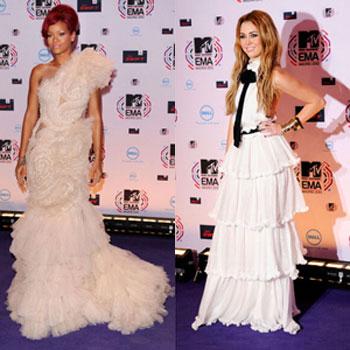 From the sexiest songbirds to the Jersey Shore's most famous guidos and guidettes, stars jetted over to Madrid, Spain for the 2010 MTV Europe Music Awards Sunday and RadarOnline.com is bringing you all of the red carpet action.
Katy Perry, Rihanna, Taylor Momsen, Ke$ha and Miley Cyrus were among the sassy singers on the fashion-filled red carpet, dressed to rock---and shock---in their unique a la mode!
Article continues below advertisement
Sexy style was definitely on the agenda, as short hemlines and barely there getup was definitely the hottest trend of the evening.
Desperate Housewife hostess Eva Longoria Parker upped the sexy ante every time she hit the stage, wearing everything from flirty cocktail dresses, which barely covered up her bum, to merely granny-style panties paired with ruffled tops. Her pal Victoria Beckham's style influence was clearly noted, as every one of Eva's look had a tres Posh feel to it.
Rihanna, who is always a red carpet wild card, dominated in a take-your-breath-away uber-fem Marchesa gown, which had her floating down the red carpet in truly angelic fashion. For her performance, she changed into bustier style mini dress, which featured a multi-colored floral appliquéd skirt.
Miley Cyrus hit the red carpet, in totally shocking style, but not because she was dressed too sexy for her age---she actually covered up her curves! But have no fear. She followed up the figure-drenching Dolce & Gabbana peasant dress with a body-baring Can't be Tamed performance look.
Article continues below advertisement
Shakira sizzled in spicy style, showing off her hot bod in sexy sequin curve-hugger, which featured a dangerously lowcut neckline. As if that dress wasn't drool-worthy enough, the Latina stunner hit the stage in AbFab fashion, showing off her perfectly defined six-pack in a metallic bikini top and fringe pants.
Although not surprising considering she NEVER TiK ToK's her way onto the Best Dressed list, Ke$ha looked beyond wacky pairing a shredded tank with satin bell bottoms and feathered accents, while Taylor Momsen looked Pretty Reckless wearing only a men's shirt over a black bra with thigh-high boots. Reminder: she is only 16-years-old!
See music's hottest stars walk the red carpet and hit the stage of the MTV Europe Music Awards in RadarOnline.com's special fashion feature.