Autopsy To Be Performed Friday On Yankees Pitcher Hideki Irabu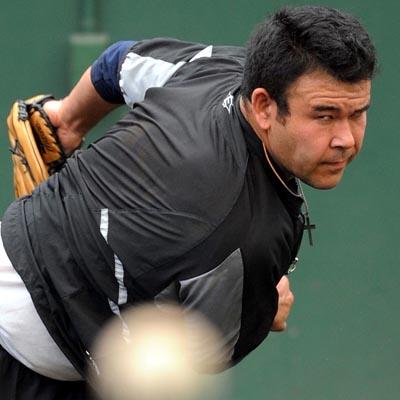 An autopsy will be conducted Friday on the body of former New York Yankees pitcher Hideki Irabu who apparently committed suicide at his home in the Los Angeles area.
Irabu, 42, was found dead at his house Wednesday night in the posh L.A. suburb of Rancho Palos Verdes. He reportedly hanged himself – perhaps despondent after his wife left him, taking with her their two young daughters.
"He was found dead by an apparent suicide," Los Angeles County sheriff's Sgt. Michael Arriaga told the Associated Press.
Article continues below advertisement
Irabu spent six seasons in the majors from 1997 to 2002 with a career record of 34-35 record and 5.15 ERA. He won two World Series titles with the Yankees (1998 and 1999), but never actually appeared in a Series game.
The Yankees released the following statement following news of his death:
"We are deeply saddened to learn of the passing of Hideki Irabu. Every player that wears the Pinstripes is forever a part of the Yankees family, and his death is felt throughout our organization. Our sympathies and support go out to his wife, Kyonsu, his two children, and all of his friends and loved ones."
Despite that statement, Yankees owner George Steinbrenner often ridiculed Irabu, calling him a "fat ... toad" because of his weight.
Prior to joining the Yankees, Irabu was a star Japanese pitcher. His contract was purchased in 1997 by the San Diego Padres from the Lotte Orions (now Chiba Lotte Marines). However, in a brazen move, Irabu insisted he would only play for New York and forced a trade.
The Padres sent Irabu, then 28, to the Yankees, where he signed a four-year, $12.8 million deal.
Article continues below advertisement
On July 10, 1997, Irabu made his major league debut against the Detroit Tigers at Yankee Stadium and earned his first victory.
After three seasons with the Yankees (after the 1999 season), Irabu was traded to the Montreal Expos, where he appeared in only 14 games. In the two seasons with the Expos, he was 2-7 with a 6.69 ERA over 71 1/3 innings.
Before the 2002 season, Irabu signed with the Texas Rangers as a free agent. He spent his final season as a reliever, appearing in 38 games with 16 saves.
After Irabu's career in the U.S. ended, he hoped to return to the Japanese professional league. He later ran into trouble with the law, getting arrested for DUI in 2010.
"He was a world-class pitcher," said former major league manager Bobby Valentine, who managed Irabu in Japan in 1995. "When Nolan Ryan saw him, he said he had never seen anything like it. There were just some days when he was as good a pitcher as I had ever seen. A fabulous arm."