Angelina Jolie & Sarah Jessica Parker - Hollywood's Top Paid Actresses With $30M Each!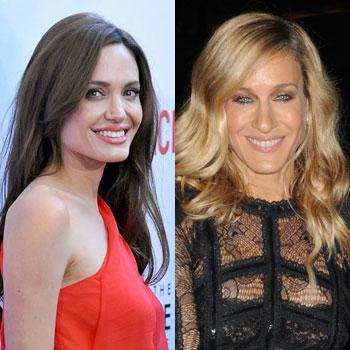 By Cliff Renfrew - RadarOnline.com Reporter
In these recessionary times, things aren't so tough for actresses Angelina Jolie and Sarah Jessica Parker.
The beautiful pair tied for first place as Hollywood's highest female earners last year by raking in a whooping $30 million each, according to Forbes.com.
Jolie earned her loot thanks to the global success of Salt and The Tourist, which together brought in $580 million worldwide.
Article continues below advertisement
Parker's earnings mostly came from repeats of her hit TV show Sex And The City, which she also produced, and from the success of the Sex And The City sequel film, which took in $280 million worldwide.
The figures where compiled after the money magazine spoke with producers, agents and Hollywood insiders to see which stars came-out tops on the earnings table.
Parker jumped from number five from the previous year to the joint number one spot because she raked in an additional $18 million from beauty and fashion lines.
The Top ten list for 2010 was:
Joint 1st - Angelina Jolie & Sarah Jessica Parker - $30m
Joint 3rd - Jennifer Aniston and Reese Witherspoon $28m
Joint 5th - Julia Roberts and Kristen Stewart - $20m
7 - Katherine Heigl - $19m
8 - Cameron Diaz - $18m
9 - Sandra Bullock - $15m
10 - Meryl Streep - $10m
Things were not so bad for newly married Reese Witherspoon and Jennifer Aniston either – both scooped $28 million between May 2010 and May 2011.
MORE ON:
Reese Witherspoon
Article continues below advertisement
Aniston's earnings were helped by The Bounty Hunter and Adam Sandler comedy Just Go With It, which is her fourth highest-earning film in the US.
Julia Roberts and Twilight actress Kristen Stewart were joint fifth while last year's top earner Oscar winner Sandra Bullock dropped to number nine with earnings of $15 million after taking a 12 month movie hiatus to raise her new son Louis Bardot.
RELATED STORIES: