Amy Winehouse's Final Days Spent In Drug-Induced Haze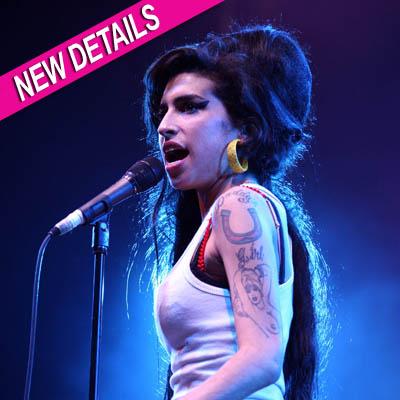 Amy Winehouse's final 36 hours were spent in a binge-induced blur fueled by whiskey, and a lethal combination of ecstasy, ketamine, cocaine and heroin, according to reports from the English media.
A source told Britain's The People the late Rehab singer, who was found dead Saturday at 27, was seen buying the narcotics at a London bar Friday night.
"Amy seemed determined to have a big one," an insider told the tabloid. "She was out in Camden on Friday evening, but seemed determined to carry on the party back at her flat. None of us know who was with her into the early hours of Saturday. But getting out of it was clearly her main priority of the night."
Article continues below advertisement
Amy's doctor had just visited the troubled singer Friday, a day before she died, and was reportedly "happy with her condition," an insider told The UK Sun.
"When he left on Friday night he had no concerns. Less than 24 hours later she was found dead," the insider told the paper. "Amy's health has been very fragile and she has been having a series of checkups."
Some friends of the late singer are speculating Winehouse might have intentionally overdosed, the Daily Mirror reported, after a quarrel with her boyfriend Reg Traviss, after he'd found out about recent conversations she'd had with her convicted ex-husband, Blake Fielder-Civil.
"Reg found out Amy and Blake had been chatting and got upset," a source told the Daily Mirror. "The pair had a fight and Reg walked out. She had been drinking more and more whiskey ... and then basically decided to play Russian roulette with her life.
"She was upstairs injecting heroin on a self-destruct mission," the source said. "The fear is she deliberately took more than usual because she was past the point of caring whether she lived or died."
Article continues below advertisement
According to the source, Winehouse "was all too aware of the 27 Club" -- a collection of musicians such as Janis Joplin, Jimi Hendrix, Kurt Cobain and Jim Morrison, whose premature deaths at the age of 27 added to their lore, helping turn them into pop culture icons.
"Amy never wanted to die in obscurity, to die having never made a record as good as Back To Black. It was almost as if she wanted to die young, to leave a legacy, and to be remembered for her music and her voice."
The Rehab singer was found dead at her London home by pal Tyler James Saturday afternoon at 27, marking the end of her long battle with drugs and alcohol. She'd entered rehabilitation facilities on multiple occasions to battle her demons, as recently as this past May.
Police Sunday tabbed her death "unexplained," adding that speculation about a drug overdose was "inappropriate."
Law enforcement sources told the Daily Telegraph that no drugs were found at Amy's house upon inspection.
Her autopsy is slated for Monday afternoon, authorities said.