Exclusive
Weiner's Wife Didn't Stand By Her Man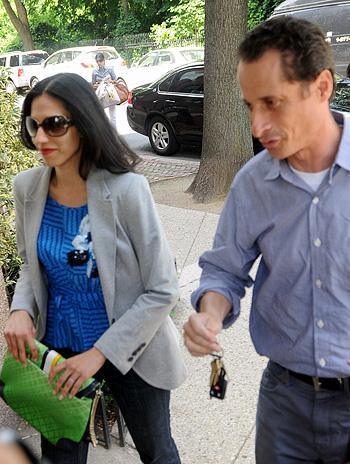 RadarOnline.com Staff Reporter
Is she standing by her man?
Just hours before his resignation press conference, Anthony Weiner and his pregnant wife Huma Abedin were spotted together outside their Brooklyn apartment.
US Congressman Anthony Weiner Press Conference in NYC
Dressed in jeans, a blue shirt and a blazer, the stylish Huma covered her eyes with dark sunglasses as she and her husband, in casual pants and a button down shirt, entered their home. This is the first time the couple has been seen together since the scandal broke.
Article continues below advertisement
However, when Weiner resigned from his congressional seat on Thursday, he was alone. Unlike political wives Silda Spitzer, Dina McGreevy, Suzanne Thompson, and even Hillary Clinton, Huma was not standing by her man.
Huma also did not attend his first press conference on June 6 when he confessed that he had "inappropriate" relationships with at least six women.
Abedin is a senior advisor to Secretary of State Hillary Clinton, and she just returned this week from an overseas work trip where she was reportedly visited by her mother and brother. Reports stated that Weiner wanted to discuss his resignation in person with his wife before making a final decision.
Huma, 34, is widely respected in Washington, DC, and Weiner apologized to her twice in his resignation speech. He said his decision to resign was so "my wife and I can continue to heal from the damage I have caused," and at the close of his speech said she "stood with me this entire difficult period and to who I owe so very much."
Wiener told reporters at his first press conference that the state of their marriage was strong. "We have no intention of splitting over this," he said of his wife of 11 months. "We will weather this ... I love her, she loves me. My wife is a remarkable woman. She's not responsible for any of this."