Exclusive
House Committee Begins Ethics Inquiry Into Rep. Anthony Weiner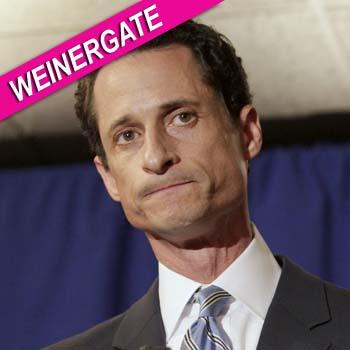 More trouble for disgraced New York Representative Anthony Weiner.
Officials say the House Ethics Committee members have begun a preliminary inquiry into Weiner's inappropriate and sexually charged cyber relationships with several women, RadarOnline.com has learned.
On Monday, House officials told The Associated Press that the inquiry is not extensive as this moment and that committee members have not yet decided whether they will order a more intensive staff investigation.
Article continues below advertisement
Officials have requested their identity not be revealed because the committee has yet to make a public statement.
The ethics committee determines whether a House member violated standards of conduct.
As RadarOnline.com previously reported, Weiner could face up to seven years in the slammer if it is discovered he engaged in any lewd behavior with a 17-year-old high school student who he admits he exchanged personal messages with on Twitter.
"If the District Attorney decides to investigate Mr. Weiner over his messages to a minor, he could land in very hot water," said high powered New York attorney Todd Spodek from Spodek Law Group.
Spodek explained that if Weiner knowingly sent the sexual material and asked or persuaded the teenager to engage in sexual conduct he could be locked up for 2-7 years.
Meanwhile, Weiner's rep announced at the weekend that the disgraced congressman was taking a leave of absence to "seek treatment" for his issues.