Tracy Morgan Meets With Offended Gay Fan: 'From The Bottom Of My Heart, I Apologize'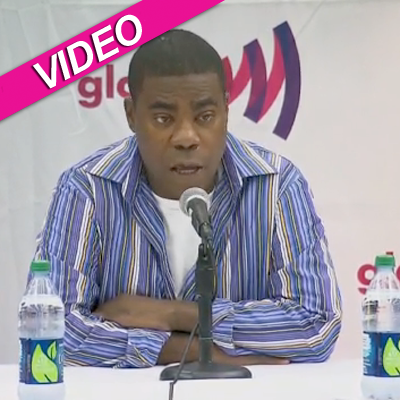 Tracy Morgan returned to the scene of the crime Tuesday.
The 30 Rock star traveled to Nashville, Tennessee to personally apologize to audience members and gay advocacy groups who were deeply offended by his vile anti-gay rant during his stand-up show there earlier this month.
After meeting with members of the gay community -- including with audience member Kevin Rogers whose Facebook entry about Morgan's act first cast a spotlight on the comedian's comments -- a contrite Morgan faced reporters at the Nashville Convention Center. (Rogers sat next to Morgan).
Article continues below advertisement
Morgan began by saying: "First thing I want to say is I apologize to Kevin and to people who were at the show for bumming them out. I want to apologize to my friends, and my family and my fans…. I didn't know, I didn't mean it…. I don't have a hateful bone in my body. I don't believe that anyone should be bullied or just made to feel bad about who they are… I really don't care who you love, same sex or not, as long as you have the ability to love."
During his June 3 show at Ryman Auditorium, Morgan said that homosexuality was a choice and that if own his son were gay, he would "pull out a knife and stab" him.
Speaking in Nashville on Tuesday, Morgan said he has the opportunity to change his message on stage and to make a difference.
"I don't see gay or straight, I just see human beings," he said.
"From the bottom of my heart, I apologize."
After the initial backlash for his remarks, Morgan was criticized not only by gay advocacy groups, but by NBC and 30 Rock creator Tina Fey. Since then, he has made several efforts to express his regret and has met with gay youth in New York City.
He has also agreed to record a PSA for GLAAD's upcoming Amplify Your Voice campaign.