Monica Burgos' Sisters Furious At Accused Murderer Husband's Latest Anti-Extradition Ploy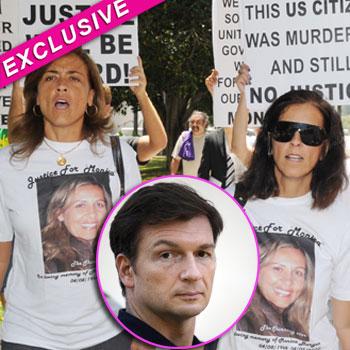 Former Survivor producer Bruce Beresford Redmond is pulling out all the stops to try and halt his extradition to Mexico where he faces charges of murdering his wife, Monica Burgos -- and her family are NOT happy about his latest ploy, RadarOnline.com can exclusively report.
Bruce's attorney filed documents Monday in federal court that included testimony from a therapist that interviewed Bruce and Monica's young daughter, Camille, claiming that she never saw her parents fight.
Article continues below advertisement
"Mommy and Daddy did not yell at each other and never hit each other. Mommy and Daddy never hit each other anywhere, any time," the therapist claims Camille told her.
Monica's sisters, Carla and Jeane Burgos are furious that Bruce would use their niece in his latest attempt to avoid being sent back to Mexico.
The Burgos powerhouse family attorney, Alison Triessl released a statement on their behalf exclusively to RadarOnline.com: "The Burgos family is both stunned and saddened by Bruce Beresford Redman's latest attempt to conceal his involvement in the murder of our sister, Monica Burgos.
"We are shocked at his shameless use of our young niece as his alibi when all of the available evidence points toward his guilt. We hope and pray that such abhorrent tactics will not prevent justice from being served in this case."
Bruce Bersford Redman's extradition hearing is scheduled for July 12, 2011.
RELATED STORIES:
EXCLUSIVE: Bruce Beresford Redman's 'Suspicious' Phone Call To Millionaire Pal