PHOTOS & VIDEO: Spider-Man: Turn Off the Dark's Opens To Fair, Poor Reviews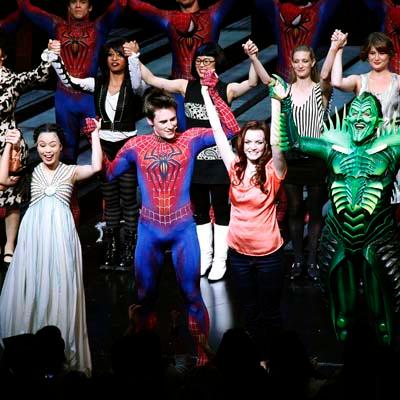 The moment we've been waiting for -- and waiting for -- finally arrived Tuesday night.
After months of well-publicized production woes -- including executive power struggles, a record-$70 million spent, a record-183 previews, six delays and at least four injured performers -- the Broadway musical Spider-Man: Turn Off the Dark sold out New York's 1,928-seat Foxwoods Theater.
Article continues below advertisement
As for the critics?
Reviews toggled between awful and not-so-bad.
Among those throwing tomatoes ... make that pumpkins:
The New York Times' Ben Brantley: This singing comic book is no longer the ungodly, indecipherable mess it was in February. It's just a bore.
The Washington Post's Peter Marks: This effects-driven musical is still situated a wide canyon's distance from good ... on the plus side, however, the whole enterprise is now about 20 minutes shorter. Getting less, in this case, feels like a bonus.
The Hollywood Reporter's David Rooney: Spider-Man is the ultimate apotheosis of theme-park product. It's Orlando in New York ... it completes the genetic mutation of both musical theater and of audiences that demand spectacle at any cost. If that cost comes at the expense of nuanced storytelling, emotional involvement and character-enhancing, plot-advancing songs, so be it.
And on the slightly more positive side ...
Article continues below advertisement
USA Today's Elysa Gardner: After myriad delays and hiccups, Spider-Man: Turn Off the Dark (*** out of four) opened Tuesday, with no attendant reports of pigs flying or Hades freezing over. And it looks as if this $75 million underdog might just make it.
Time's Richard Zoglin: The musical was "hardly deserving of the disparaging label that some have stuck on the show: a Vegas spectacle. If only. Spider-Man is better now since previews, but it's still just a cut above an ordinary Broadway spectacle."
ABC's Sandy Kenyon: The show has been improved ... but at two-and-a-half hours, it's way too long and there's too little of what makes the show special.
Despite the well-documented problems, the musical remains one of the hottest tickets in Gotham, including among the rich and famous: Stars at opening night included former President Bill Clinton and his daughter Chelsea, Matt Damon, Steve Martin, Liam Neeson, Barbara Walters and Jay-Z.
Article continues below advertisement
In a surprise, Julie Taymor, the Tony Award winning director canned from the production three months back, returned for opening night, even taking part of the curtain call at the end of the program.
"I'm delighted to be here," she said. "The cast wanted me to come. I'm very proud of the production. We were trying to do something that's never been done. And that's very hard to do."
Stay with RadarOnline.com for more on Spider-Man: Turn Off the Dark.