Rep. Weiner's Wife Huma Abedin Back In Washington, D.C.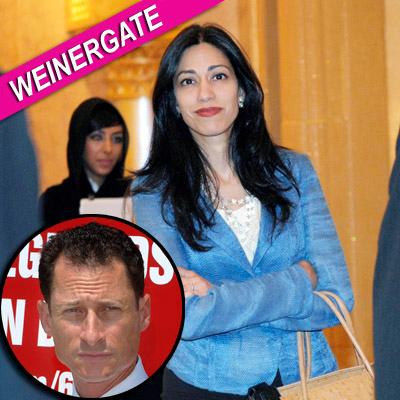 The pregnant wife of disgraced New York Representative Anthony Weiner returned to the couple's Washington, DC home early Wednesday.
Huma Abedin, who is Secretary of State Hillary Clinton's Deputy Chief of Staff, had been traveling overseas with her boss when Weiner's lewd photo scandal first broke.
There's no word as to when Abedin will be reunited with her husband, who has taken a two-week leave of absence from Congress so that he can seek treatment at an undisclosed facility.
Article continues below advertisement
Weiner has not revealed exactly what type of treatment he is undergoing, only telling reporters that he will be focusing "on becoming a better husband and healthier person."
Weiner and Abedin married less than a year ago in a lavish ceremony officiated by former President Bill Clinton.
Meanwhile, calls are growing this week for the Congressman -- who represents New York's 9th Congressional District -- to step down from office.
On Tuesday, fellow Democrat Rep. Carolyn McCarthy suggested Weiner's resignation was imminent.
"It's been what two weeks. It's been a very long two weeks," said McCarthy. "Hopefully, we are hearing he might resign in a couple of days."
Even President Obama has weighed in on 'Weinergate,' suggesting that he too feels the embattled Congressman should resign.
He was first elected to The U.S. House of Representatives in the mid-term elections in 1998, filling the seat previously occupied by Democrat Charles Schumer who successfully ran for the U.S. Senate that same year.