Radar Wins L.A. Press Club Award For Explosive Mel Gibson Tapes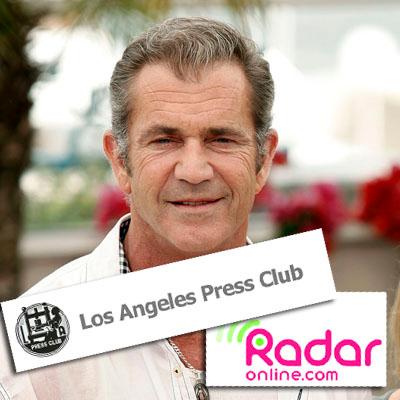 by RadarOnline.com Staff
RadarOnline.com's world exclusive series of stories exposing the explosive Mel Gibson audio tapes won a prestigious Los Angeles Press Club Award Sunday night.
In honoring RadarOnline.com's team who broke the story – in particular Managing Editor David Perel and former Executive Editor Dylan Howard -- the L.A. Press Club said in a statement: "This is a great example of how online publications can apply standard journalism techniques to provide coverage of a story. It's research, interview, sourcing and reporting at its best. Congratulations for your work combining these two worlds in reporting a news story."
Article continues below advertisement
RadarOnline.com released the first in a series of tapes in the summer of 2010.
The tapes – secretly recorded by the Braveheart star's then love Oksana Grigorieva – ignited a worldwide firestorm for the profane and vile nature of Gibson's comments directed toward her.
In wake of the tapes, Gibson was investigated for domestic violence, and was eventually charged with misdemeanor battery for hitting Oksana, as she held their baby daughter Lucia.