PHOTOS: Lindsay Lohan's House Arrest House Party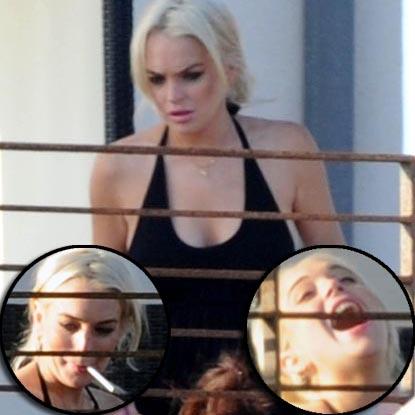 by RadarOnline.com Staff
Lindsay Lohan isn't letting a little thing like house arrest keep her from having some fun.
The very blonde Mean Girls star, 24, invited several friends over to her posh Venice beach house for a rooftop BBQ party on Sunday.
In the photos, we see Lindsay smoking cigarettes and laughing her head off.
We also see her in two different outfits -- in the afternoon, she sported some Daisy Duke denim shorts and a blue patterned
Article continues below advertisement
summery top. As the sun went down and the temperature cooled off, the actress changed in a black dress with plunging necklace.
Lindsay later tweeted: "so excited for the season premiere of Keeping Up With The Kardashians Season 6 tonight on E!"
As RadarOnline.com previously reported, Lindsay is in the midst of serving 35 days of house arrest in connection with the theft of a $2,500 necklace from a Venice Beach Jewelry store. She's also been ordered by 480 hours of community service, expected to be divided between a women's center and a morgue.
MORE ON:
Celebrity Justice