PHOTOS: Extraterrestrial Bikini Babes! Sexy Stars Of Alien Movies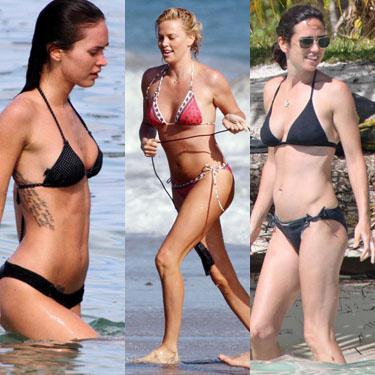 RadarOnline.com Style & Beauty Editor
These hot, Hollywood stars are out of this world in more ways than one!
RadarOnline.com has photos of the sexiest stars of alien movies -- stripped down and showing off their gorgeous goods in the skimpiest of bikinis!
Megan Fox battled robots from outer space in the first two installments of the Transformers franchise, and though it doesn't seem possible that anyone could steam up the screen quite like the feisty female, Victoria's Secret Angel Rosie Huntington-Whiteley will take her shot this summer in Dark of the Moon.
Article continues below advertisement
Drew Barrymore skyrocketed to international fame starring as a child in E.T. The Extra-Terrestrial, while Tara Reid's role in an alien movie, Alone in the Dark, went virtually unnoticed.
Zoe Saldana and Michelle Rodriguez steamed up the screen in the 3D alien movie Avatar, while Rosario Dawson and Lara Flynn Boyle battled aliens in Men in Black.
What other sexy stars have been in alien movies? Click here to find out.