PHOTOS: 10 Bikini Babes On The Rise!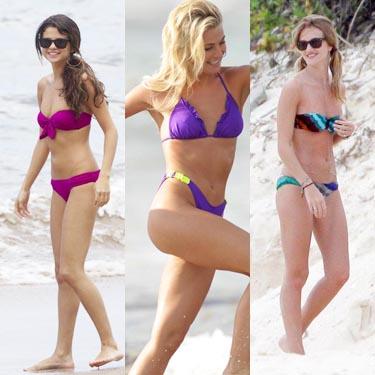 RadarOnline.com Style & Beauty Editor
With their superior talent, good looks and smokin' hot bodies, these bikini babes have everyone talking about them.
RadarOnline.com has photos of ten of the most talked-about stars of the moment -- stripped down and showing off their fab figures in skimpy bikinis!
Blake Lively has been in the public eye for several years, but with a summer superhero movie hitting the screen and hunky leading man Leonardo DiCaprio on her arm, the Gossip Girl is quickly gaining A-list cred. And don't feel bad for Leo's ex, Israeli supermodel Bar Refaeli. The exotic hottie also scored a slot on our list, due to the major attention she attracted at this year's Cannes Film Festival.
Article continues below advertisement
Victoria's Secret Angel Rosie Huntington-Whiteley is making her bigscreen debut this summer in Transformers: Dark Side Of The Moon, and she is sure to make hearts race!
When Selena Gomez gained a lover, she also acquired a whole lot of haters! The Disney dame, who will be gracing the bigscreen in this summer's Monte Carlo, has been one of the most talked about Young Hollywood stars since she was first spotted with teen heartthrob Justin Bieber, but regardless, the babe has got buzz!
Julianne Hough transitioned from Dancing with the Stars pro to blockbuster babe when she hit the bigscreen in Burlesque. Now Ryan Seacrest's sexy gal pal is filming the highly anticipated Rock of Ages with Tom Cruise and Russell Brand, and we are quite sure she still has some more moves to show us!
What other sexy stars made our hot list? Click here to find out.
RELATED STORIES:
EXCLUSIVE VIDEO: Victoria's Secret Angels Share Sexy Secrets!