Exclusive
Paris Hilton Strikes The Perfect Pose - For Herself!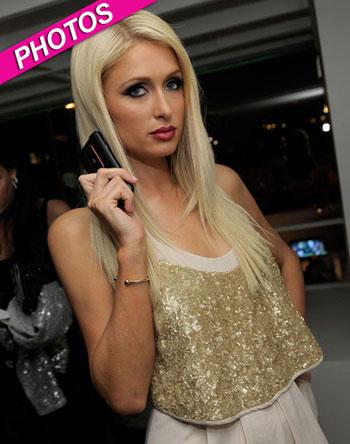 By Debbie Emery RadarOnline.com Reporter
Paris Hilton is newly single and very ready to mingle!
You would think that the hotel hottie would be sick of being in front of the camera but she can't get enough of it - even striking the perfect pose to snap a photo of herself at a Hollywood party.
Never tired of flaunting for flashing cameras, the reality star snapped photos of herself with her fancy new phone at the RadioShack Pop Up Lounge in Los Angeles on Thursday night.
Article continues below advertisement
The reality star was excited to enjoy a night out on her own after splitting up with boyfriend Cy Waits, but rather than rushing out to meet a new man, she caught up on some girl-time and hung out with her The World According to Paris co-stars and best friends, Jenn Rovero and Allison Melnick.
Paris got into the spirit of the gadget-themed event and snapped photos of herself and her girlfriends with the new HTC EVO 3D phone from Radio Shack and immediately turned them into 3-D photos.
David Arquette was in high spirits at the party and was overheard saying that he feels his life is moving in the direction he had hoped with his new movie in production.
But, despite the fun and glamour of a star studded Hollywood bash, Arquette predicted that his daughter Coco's seventh birthday party is going to be the highlight of his summer!
NFL player Bret Lockett, who has infuriated Kim Kardashian with his text-cheating allegations, hung out with his New England Patriots teammate, Leigh Bodden, and the sports stars were overheard saying how the entire team needs the new HTC 3D phone.