'No-Prah!' Oprah Skips Daytime Emmys – And She's The Guest of Honor!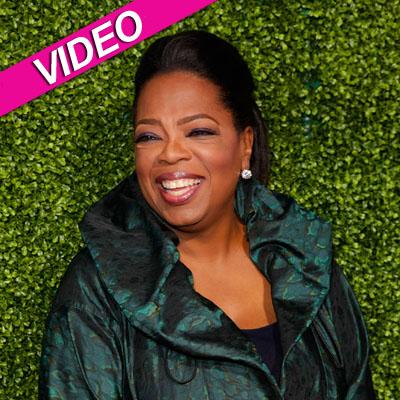 Imagine throwing a party – and the guest of honor doesn't show up!
Well, that's kind of what happened at the 38th annual Daytime Emmy Awards Sunday night in Las Vegas when Oprah Winfrey did not accept in person the prestigious Crystal Pillar Award for changing the face of daytime television.
Instead, the former Queen of Talk accepted in a pre-taped acceptance speech from her Chicago-based Harpo Studios, surrounded by her staffers.
Article continues below advertisement
What made her pre-taped acceptance especially anti-climatic was that it was preceded by a huge buildup that included a (live) performance by Gladys Knight singing That's What Friends Are For, as scenes from her iconic talk show were shown.
Knight then introduced Oprah protégée Dr. Mehmet Oz who said: "Oprah, thank you for being the dean of Oprah University and teaching me the fundamentals of hosting."
Barbara Walters also appeared, via videotape, saluting Oprah for being "unique and unsurpassed." The broadcasting icon added, "This I know for sure, nobody deserves this award more than you, my dear friend." Dr. Phil, meanwhile, thanked the 57-year-old beauty for being "a friend to my family."
Gladys later introduced Oprah favorite Celine Dion who sang live from her sold-out show in Caesar's Palace in Las Vegas. The Grammy Award winner singer belted out Because You Loved Me, one of Oprah's favorite songs. "I'm honored to be able to participate in this wonderful tribute to my dear friend Oprah!" she said.
Article continues below advertisement
Even Ellen DeGeneres heaped praise on the Queen of Talk, saying: "For the past 25 years, the world has been lucky to call you a friend. I will miss you and I love you."
Oprah then appeared with her staff via the pre-taped clip from to accept the Crystal Pillar Award. "We are sorry we couldn't be there to celebrate. On behalf of the entire team, we thank you for honoring our show, we thank you for 25 years," she said.
"This show has served as a platform to enlighten and entertain our millions of viewers...it has been a phenomenon that none of us could have imagined in our wildest dreams," she continued, before humbly adding "None of this would have been possible without the support of the best team in television. Thank you!"
Last month, Oprah ended her legendary talk show after 25-years in syndication; she's now focusing on running OWN, the Oprah Winfrey Network.