Oprah Winfrey's Farewell Scores Her Highest Ratings In 17 Years!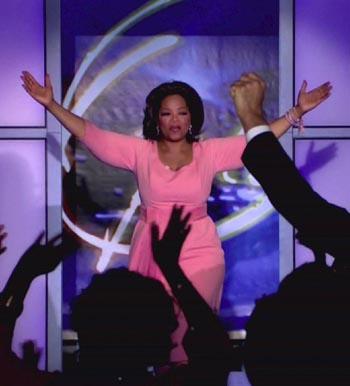 Oprah Winfrey went out on top.
Her very last show on Wednesday scored a 13.3 household rating, the most she's had in 17 years.
It's impossible to translate that figure into an exact number of viewers, since only half the nation's markets are metered, and St. Louis didn't see the show at all on Wednesday, since the Oprah affiliate there was forced to preempt her for storm coverage. (The station instead aired her finale show on Thursday).
Article continues below advertisement
According to the Nielsen Co., early returns from Winfrey's finale indicate the show's best numbers since a February 1994 broadcast titled "People Shed Their Disguises," which got a 13.4.
To wrap things up, Winfrey, clad in a beautiful pink dress with a sash on the side, reminisced about lessons learned from her iconic talk show and thanked her audience with a goose bump-inducing monologue to end her quarter-century on the air.
"I thank you for sharing this yellow brick road of blessings. I thank you for tuning in everyday along with with your mothers, sisters and your daughters, your partners, gay and otherwise, your friends, and all the husbands who got coaxed into watching Oprah.
"I thank you for being as much of a sweet inspiration for me as I've tried to be for you," Winfrey said. "I won't say goodbye: I'll just say, until we meet again.