Michael Vick Surprises Grad Students With $5,000 Scholarships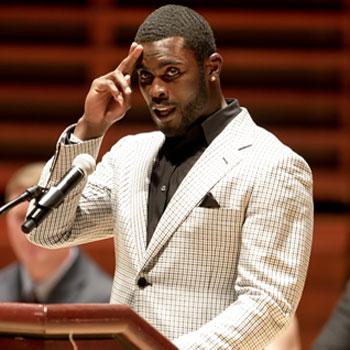 RadarOnline.com Staff Reporter
Eagles star Michael Vick has surprised two high school students by handing them each a $5,000 college scholarship during a commencement speech and RadarOnline.com has the photos of the event.
The NFL quarterback was speaking to 450 students of the Camelot schools for at-risk-youths in Philadelphia when he made the announcement.
And the ex-con who has rebuilt his career after serving 18-months in prison on dogfighting charges was keen to brush up his image too.
Article continues below advertisement
"I had all the fame and fortune; I thought I was unstoppable," he told the students, who suffer with emotional, disciplinary and academic problems. "I lost my freedom, I lost my money, I lost my family.
"I stand before you today a changed man. Use me as an example at how to become an instrument of change, you can do it as well."
Vick then announced the scholarships to the two unsuspecting students.
"I heard a little bit about it yesterday, but I had no idea how generous he was going to be to our students," said Camelot CEO, Todd Bock. "I think our kids, our schools, and our story really resonated with him."