Exclusive
LIVE STREAM: Testimony Resumes In Casey Anthony Trial – Watch It Here Live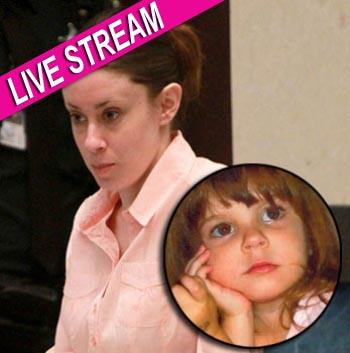 RadarOnline.com Staff Reporter
Testimony has resumed after a lunch break in the explosive Casey Anthony murder trial, and RadarOnline.com is live streaming it.
Before the break, emotions ran high in the Orlando, Florida courtroom Thursday morning, as Casey cried after pictures of her dead daughter Caylee were displayed in the court.
The pictures, which were censored on local news broadcasts, showed 2-year-old Caylee's skull, while an investigator explained the details behind the trauma to the jury.
Article continues below advertisement
Orange County crime scene investigator Jennifer Welch said in testimony that the skull had duct tape on it, and was wrapped in three bags and a towel.
Casey's parents, George and Cindy Anthony, promptly left the room before the images were shown of their deceased granddaughter.
Casey, 24, is charged with first degree murder. If convicted, she could face the death penalty.
RELATED STORIES:
Casey Anthony Trial: Hair & Air From Car Trunk Introduced As Evidence