LIVE STREAM: Anthony Weiner Resigns From Congress - Watch It Here Live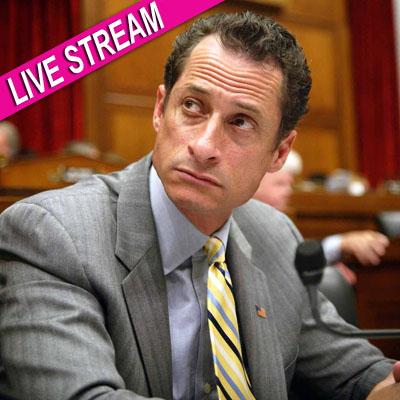 Update: Weiner has arrived!
Disgraced New York Representative Anthony Weiner is resigning from Congress Thursday in wake of his sexting scandal, and RadarOnline.com is live streaming his announcement. Weiner, 46, is facing reporters at a senior citizens center in Brooklyn, starting at 2pm ET.
Watch The Live Stream On Radaronline.com
Weiner -- who initially refused to step down -- made the decision to resign after mounting pressure and after talking with his wife, Huma Abedin, a longtime aide to Secretary of State Hillary Rodham Clinton.
Article continues below advertisement
Abedin -- who is pregnant with the couple's first child -- returned early Wednesday from a diplomatic mission in African with Secretary Clinton.
Weiner is a seven-term Democratic member of Congress who represents the Bronx and Brooklyn areas of New York. He assumed office on January 3, 1999.
RELATED STORIES:
EXCLUSIVE DOCUMENTS: Weinergate Student Busted For Under Age Drinking