Lindsay Lohan Facing Judge To Explain Dirty Alcohol Test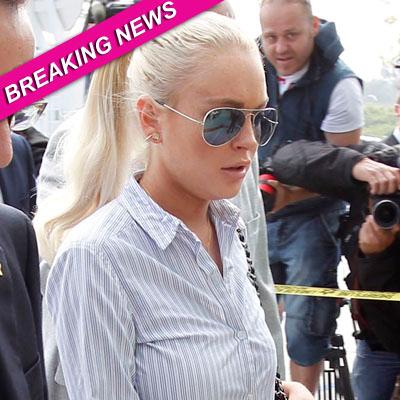 By Adam S. Levy - RadarOnline.com Staff Writer
UPDATE 11:31 AM PT: Lindsay Lohan has dodged another legal bullet! Judge Sautner just said to Lindsay: "What you are guilty of is of poor judgment to have parties on your roof. You are not to have parties, you can have one friend over at a time, plus family members or business associates. You can go on your roof, if probation calls you, you must answer. There is no drug or alcohol testing in effect."
Article continues below advertisement
UPDATE 11:15 AM PT: Lindsay Lohan is now at the counsel table with her attorney Shawn Holley. The City Attorney is present and they're waiting for the judge.
Lindsay Lohan is back in court Thursday to explain her recent dirty alcohol test to Los Angeles Judge Stephanie Sautner.
At this hour, the Mean Girls star, 24, is in a room by herself, with guards watching her. Judge Sautner is in chambers, meeting with attorneys in the case.
Prior to going into chambers, Judge Sautner addressed the court and said the hearing was "meant to be a little private conference with the attorney." The judge added: "If you all thought there was going to be something exciting happening, I wouldn't count on it."
Judge Sautner also asked: "Is nothing private anymore?" when addressing the media about today's meeting becoming public after RadarOnline.com broke the exclusive news that Lindsay had violated her probation by testing positive for alcohol while under house arrest at her rented townhome in Venice Beach, CA.
Article continues below advertisement