Exclusive
LeAnn Rimes Overcome With Emotion At Joplin Tornado Fundraiser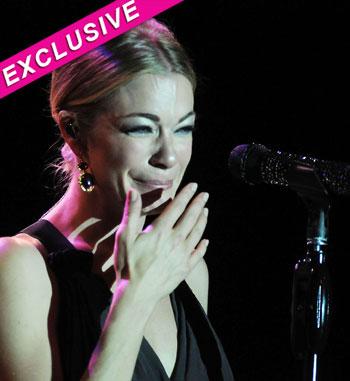 RadarOnline.com Staff Reporter
LeAnn Rimes and her new hubby Eddie Cibrian held a benefit concert for victims of the tornado that ripped through the South, and they were so overcome with emotion that they both cried on stage during the event.
LeAnn burst into tears when she described being part of the Evening With LeAnn Rimes and dedicated her new single Give to the victims of the Joplin tornado. "There wasn't a dry eye in the house," a concert goer told RadarOnline.com. "She apologized to the crowd for being so emotional. She was obviously so caught up in the movement and genuinely moved."
Article continues below advertisement
The benefit was arranged by popular event planner and producer Jonathan Jaxson who approached LeAnn via Twitter to help the hurricane victims. The 450 seat show raised over $30,000 for tornado relief with auctions items from Oprah, Taylor Swift, Justin Bieber, Kelly Clarkson, Tim McGraw, Faith Hill, Kim Kardashian, Reba McEntire, Tim Tebow, Marla Maples, and the cast of Glee.
Eddie also cried on stage, breaking down in tears as he read a letter from a family in Joplin about how the tornado devastation has changed their lives.
The newlyweds seemed to be still on their honeymoon as they were "making out in the dressing room before the show" Jaxson told the audience about LeAnn and Eddie.
One lucky couple won the silent auction prize of having a one-on-one meeting with LeAnn and Eddie and "they chatted, ate, drank, laughed and shared stories for nearly two hours," Jaxson said.
LeAnn spoke about her reasons for helping out. "We all need a hand sometimes and this is the time. Our heart goes out to Alabama and Missouri and all those affected by the recent tragedies there. I am happy Eddie and I can help out in some way."