Exclusive
One-On-One With Laila Ali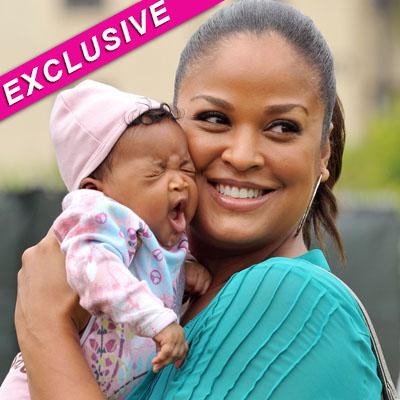 Two and a half months after giving birth to her second child, daughter Sydney, Laila Ali has revealed how she is getting her pre-baby body back in fighting shape.
The former professional boxer recently exclusively talked with RadarOnline.com about motherhood and the challenge she set to get her figure back on the red carpet at the Disney sponsored "Time For Heroes" Celebrity Carnival to Benefit the Elizabeth Glaser Pediatric AIDS Foundation.
Article continues below advertisement
"We all want to (get straight back in shape), but you know, it's a lot of work. I'm nursing so I have to take it slow. But I gained about 45 pounds. I have 20 more to lose," Ali said.
"I know how to put in the work and eat right being an athlete but I have to have a certain amount of calories, you know, for the baby."
Claiming that motherhood has "changed my life," Ali also admitted at the June 12 event that she was determined to get back in shape as soon as the baby was born.
Being a professional athlete, Laila knows exactly what she needed to do to shift the extra pounds, while still being healthy enough to nurse her new baby.
"Right now I'm trying to find out like what's the least amount I can have and still feed the baby and still lose weight. So I'm trying to lose 4 pounds a week."
In order to motivate herself and help others Laila made her goals a public challenge and even invited others to join her.
Article continues below advertisement
"I'm doing a public challenge on my Facebook page for anybody. I said I have 25 pounds of baby weight to lose. Who wants to lose weight with me? So I have like 300 people and we're all, you know, encouraging each other," Ali told RadarOnline.com.
"What I'm doing is just eating right. I'm cutting out sugar basically, eating a lot of vegetables, whole grains, lean meats, salads and trying to work out at least 45 minutes to an hour and fifteen minutes a day."