Lady Gaga Gets Hairy For Much Music Video Awards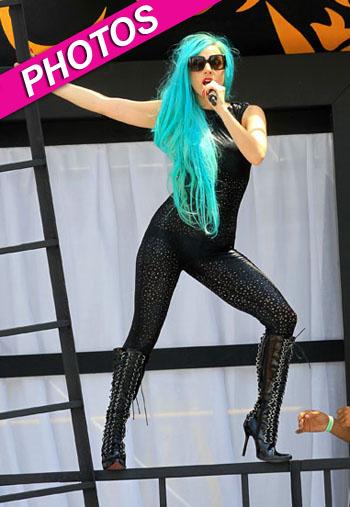 by RadarOnline.com Staff
She is fast becoming the queen of reinvention, at times surpassing even Madonna in the style stakes.
The always-changing Lady Gaga rocked a waist length turquoise wig as she took to the stage on Saturday morning to rehearse for the Much Music Video Awards in Toronto, Canada.
Dressed in a sheer black bodysuit and knee-high laced stiletto boots, the 25-year-old performer balanced on a thin railing as she busted out several songs during the sound check.
Article continues below advertisement
The singer arrived on stage in an unusual blue spotted 'thriller-esque' jacket with giant shoulders but removed it during the warm up.
The long-haired look was a far cry from Gaga's appearance earlier in the week when she removed her wig on live television and performed with a bald head on The Paul O'Grady Show on Britian's ITV.
The 2011 Much Music Video Awards are co-hosted by Selena Gomez and will air live on Sunday, June 19 at 9 p.m. ET.