Lady Gaga Goes Green At Much Music Awards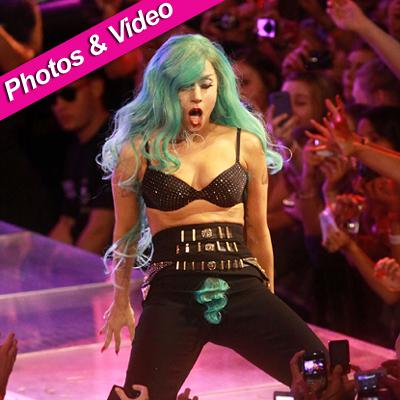 Yes, the carpet matches the wig.
Lady Gaga, appearing at Sunday's Much Music Awards in Canada, lived up to her envelope-pushing ways, as the green-wig-clad crooner intentionally left a green patch of cloth sticking out of her zipper!
The multi-Platinum pop diva, who again emerged from an egg-like device, closed the show with an electric performance of her smash hit, Born This Way.
As for the ceremony, Gaga added another two plaques to her avant-garde mantle-place, capturing the honors for International Video of the Year for Judas and the fan-selected UR FAVE International Video for Born This Way.
Article continues below advertisement
"I love you so much little monsters and Canada!" Gaga said upon accepting the award for the latter. She dedicated the award to her late grandfather and the late E-Street Band saxophonist Clarence Clemons, who she worked with on her new album Born This Way.
She said her grandfather is "in heaven now with Clarence, so I'm on the edge with both of you."
RELATED STORIES:
Lady Gaga's Famous Meat Dress On Display At Rock N' Roll Hall Of Fame