Justin Bieber Digs Nicki Minaj's Curves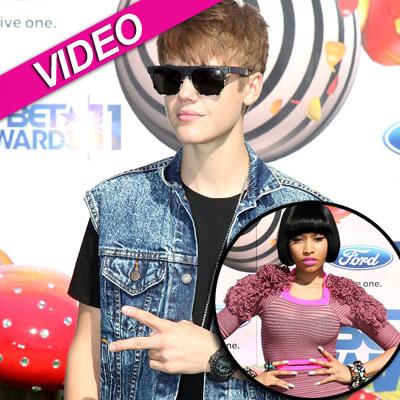 by RadarOnline.com Staff
Selena who? (Oh, just kidding – they're still together).
While mega-star Justin Bieber seems very comfortable with Disney Channel diva Selena Gomez on his arm, she might have some competition for the Biebs' affections in the form of hip-hop beauty Nicki Minaj.
At Sunday's BET Awards in Los Angeles, Bieber and Minaj co-presented the honors for the best male hip-hop artist (Kanye West would go on to win), and the two definitely showed some chemistry.
Article continues below advertisement
"Let's keep it real, both of us are really lucky to have very devoted fans," Minaj said. "I mean, look at you Justin, at your first BET Awards and everything."
Watch the video on RadarOnline.com
"I'm all grown up now," Bieber, whose voice seems to be getting deeper as of late, told the sexy Moment For Life singer. "Next year I'll be 18 ... So what's up?"
"Justin, do you drive?" Minaj purred. "Can you handle curves?"
"Yes ... I ... can!" Bieber said.
2011 BET Awards – See The Photos
The 17-year-old heartthrob's video for Baby is the most viewed-ever on YouTube, garnering more than 573 million hits.