Exclusive
Denise Richards And Bobby Flay To Heat Up 'Entourage'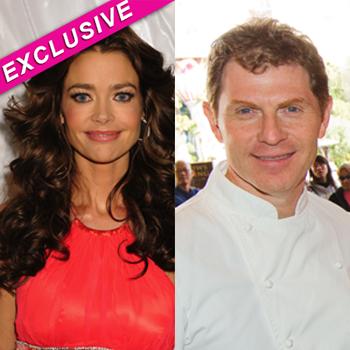 by RadarOnline.com Staff
Eminem, Christina Aguilera and Zac Efron have all done it, and now Denise Richards and celebrity chef Bobby Flay are following in their footsteps and guest starring on the hit HBO show, Entourage.
In an exclusive interview with RadarOnline.com, the show's resident hottie, Constance Zimmer dished on the finale season and plans for an Entourage movie.
"This year, the guest stars that I can remember are Bobby Flay, Denise Richards and Andrew Dice Clay," said the actress who plays studio exec Dana Gordon in the HBO show.
Article continues below advertisement
"They're all playing themselves. I can't reveal too much. Bobby has something to do with mine and Ari's story line, Denise has to do with Adrian's storyline and Clay has something to do with Drama's storyline."
And now that plans for a film version are well on their way, Zimmer, says the cast have not had time to morn the fact that the longstanding show is almost over.
"It's bitter sweet," she said of the eighth and final season. "But I think there is such a sense of hope and knowing that we're going to do a movie that I think once the movie is done, that's going to be really sad.