PHOTOS: William & Kate Honor His Grandmother, Queen Elizabeth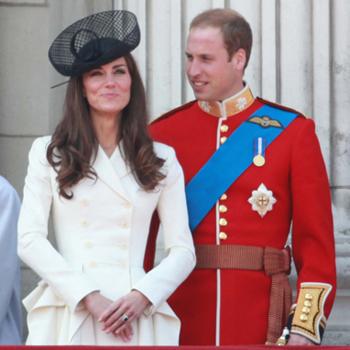 by RadarOnline.com Staff
William and Kate, officially the Duke and Duchess of Cambridge, returned to the scene of their wedding famous kiss Saturday, as thousands of fans cheered.
The royal newlyweds were out on the balcony at Buckingham Palace and took part in an open carriage ride -- and it was all part of the Trooping the Colour ceremony honoring Queen Elizabeth on her 85th birthday.
William was in the same red Irish Guards uniform he wore for his wedding day. Catherine, as Kate is now always called, was in a fashionable cream-colored suit and black hat.
Article continues below advertisement
In addition to waving to the crowds from the famous Palace balcony, the couple took part in a horse and carriage procession between castles. Kate rode in an open carriage with her mother-in-law Camilla, brother-in-law Prince Harry, and William and Harry's Uncle, Prince Andrew.
William, looking as dapper as ever, was on horseback, following Queen Elizabeth and Prince Philip's carriage.
Elizabeth turned 85 on April 21, and today's event was just part of an almost year-long celebration.