Exclusive
LIVE STREAM: Testimony Resumes In Casey Anthony Trial -- Watch It Here Live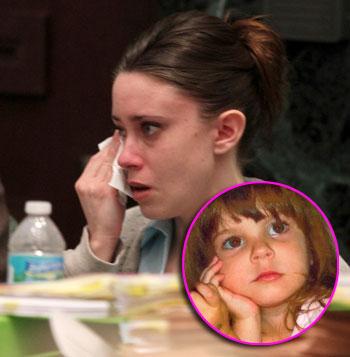 RadarOnline.com Staff Reporter
Testimony resumed Friday morning in the explosive Casey Anthony murder trial, and once again, RadarOnline.com is live stream the proceedings.
Cindy was shown telling her daughter: "Don't worry about protecting me, dad or Lee," which caused Casey to wipe tears away from her face.
She is otherwise just sitting stone-faced as she watches the tapes, showing no emotion as the tapes are played where her contradictory statements are revealed.
Article continues below advertisement
On the tape Cindy was heard telling Casey: "We're going to see her little face again," to which Casey replied: "I pray to God everyday that we do."
In the courtroom she just watched the tapes with an expressionless look on her face, whispering to her lawyers. On the tapes she continues to talk to her parents about the nanny she claimed might have her daughter, Zenaida Fernandez Gonzalez, a person the prosecution says she made up.
The jailhouse tapes of Casey talking with her brother Lee Anthony were also played, and he told her that the only communication she can have that isn't going to be revealed to the public is by writing a letter and mailing it through the jailhouse system.
"Caylee is my concern," Casey said on the video. At the end of the visit with her brother she told him she had a message for the media. "I love my daughter. I want her safety....all I want is to see her again, to hear her laugh to see her smile and to just be with the family..." she said.
Article continues below advertisement
Casey is charged with first degree murder in the death of her 2-year-old daughter Caylee, who disappeared in June 2008. Her body was found in December of that year.
In his opening statement, Casey's defense attorney said that his client's daughter drowned accidentally in the family pool on June 16, 2008 and her elaborate lies were a defense system for combating years of abuse at the hands of her father and an attempted sexual abuse by her brother.
Both men have adamantly denied they ever abused Casey in any way.
In the tapes shown Thursday, George Anthony apologized to Casey during a jailhouse visit, telling his daughter: "I want to take your pain away. I wish I could have been a better dad and granddad," and she assured him: "You've been a great dad and a great grandfather."
RadarOnline.com is live streaming the court proceedings as they happen, check back regularly for all the latest developments.