Exclusive
Chris Evans Was 'Begged' To Take Captain America Role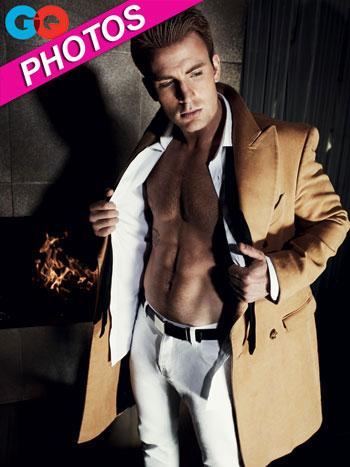 Look out America, your Captain is calling!
After donning a stars and stripes super hero suit and trademark shield to play Captain America: The First Avenger this summer, Chris Evans is opening up to GQ about how he had to be begged to accept the role, and RadarOnline.com has an exclusive sneak peek at the interview and the sexy photo shoot with famed photographer Mario Testino.
Evans first became famous as a less patriotic super hero alongside Jessica Alba in Fantastic Four: Rise of the Silver Surfer, so it's understandable that he didn't want to get pigeon-holed in the genre.
Article continues below advertisement
The 30-year-old actor reveals in the July issue of GQ that he was initially reluctant to take the role of geeky Steve Rogers who is injected with a Super-Soldier serum during World War II and transformed into a Nazi-whacking super hero.
"I said no a bunch, and every time I said no, I woke up the next morning so happy and content," Evans said. "I kept saying no; they kept coming back. And eventually I was like, 'You know what? This is your biggest fear - this is exactly what you have to do.'
"But we'll see. I could be singing a different tune in six months. It's easy to say all this pretentious s**t now," said the reluctant star. "The problem is, if the movie's bad, that's one set of problems. If the movie's great, here come the sequels."
Comic book fans will get to judge whether the Boston-born actor made the right decision when Captain America hits movie theaters on July 22.
Evans went on to tell the magazine how he gets offended every time he gets complimented for his role as 'an a**hole actor' in Scott Pilgrim vs. The World.
Article continues below advertisement
"The character's supposed to be this horrible actor and a douchebag, and I get the job and so many people were like, 'You're perfect, you're gonna crush it!' he explained.
"I was like, So I got this role as an asshole actor, and you guys think I nailed it? That I'm a natural and that nobody in town can do it better?"
The full interview is in the July issue of GQ on news stands from June 21.
RELATED STORIES: