'Balloon Boy' Dad Richard Heene Hopes To Become Multi-Millionaire With Latest Invention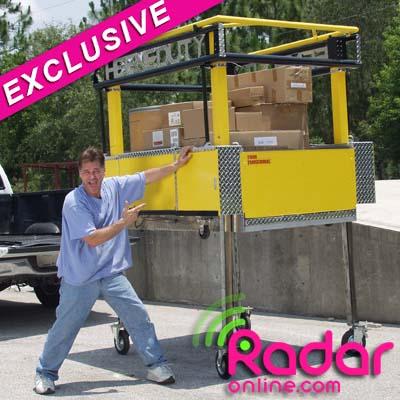 'Balloon Boy' dad Richard Heene has struck a licensing deal which he hopes will make him a multi-millionaire, RadarOnline.com Online.com has exclusively learned.
Heavy plant manufacturers AME International have agreed a licensing deal with Heene for his latest invention The HEENEDUTY Truck Transformer.
The pick-up robot can lift over 2,400 lbs and allows truck owners to load-up and go within a few minutes.
Article continues below advertisement
Heene told RadarOnline.com: "I'm really thrilled. I will get a percentage of sales and royalties on my invention. I am projecting sales of $65 million over 5 years.
"This is a dream come true for me because I am an inventor at heart and to have a company believe in me is really amazing.
"I designed the device, so, it is really practical. It has a fold-out lumber rack for easy storage and a space saver."
Heene and his family are still trying to auction off his now infamous balloon and he hopes to raise $100,000 for victims of the Japanese tsunami. The online auction has now been extended to June 17, 2011.
The father-of-three was sentenced to 30 days in jail and given 60 days community service plus a fine following the stunt involving his son Falcon Heene that gained international attention in October 2009.
MORE ON:
hollywood happenings
Article continues below advertisement