Schwarzenegger's Baby Mama Speaks Out: 'I Thought I Loved Him'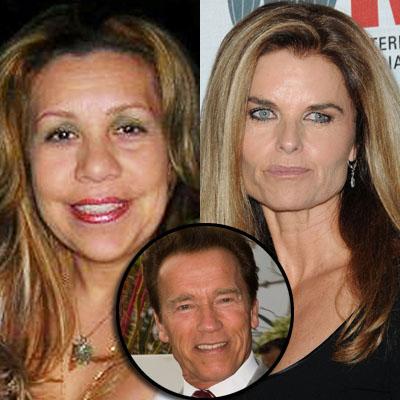 RadarOnline.com Staff Reporter
Arnold Schwarzenegger's baby mama Mildred Baena is finally coming forward with her side of the story, more than a month after it was revealed that he fathered a child out-of-wedlock with the former housekeeper.
According to Baena, their son, now 13-years-old, found out just one year ago from his grandmother that the former governor was his father to which he responded, "Cool!"
Article continues below advertisement
In what Baena claims will be her first and only interview, she opens up to HELLO! Magazine about the intimate times she shared with Schwarzenegger saying it was only "a few times."
"At the time, I thought I loved him," Baena said.
"I admired him and had such great respect for him."
EXCLUSIVE: Arnold & The Stripper
Baena confessed that once she started bringing her son around the Schwarzenegger home, it became quite evident that he was related to Arnold.
"After that, people in the house started whispering about how much they looked like each other," Baena said.
"I knew Arnold was the father, and maybe as Joseph got older and began to look like him, he Arnold wondered. But he never said anything to me."
But as RadarOnline.com was first to report, Schwarzenegger's wife Maria Shriver had an inkling about the illegitimate child and it came to a head during a confrontation with Baena.
Article continues below advertisement
"She would say things like, 'I'm here if you need to talk.' I sensed something was up. I have so much love and respect for Maria," Baena said, speaking out for the first time since the scandal broke.
"Finally, she asked point blank.
"She was so strong. She cried with me and told me to get off my knees. We held each other and I told her it wasn't Arnie's fault, that it takes two."
Baena, 50, said Schwarzenegger told her he was splitting with Shriver before they went public with the news.
"Arnold called to say they were splitting up and that reporters might be calling," Baena said.
First Photos of Arnold & Secret Son Published
And although the very public scandal caused Baena to pull her son out of school and go into hiding, she hold no ill will towards the Hollywood star and his family.
"He's a good man and I know he's suffering too. He loves Maria. I hope with time they work things out," she said.