Exclusive
Arnold Schwarzenegger Paying Child Support To Maria Shriver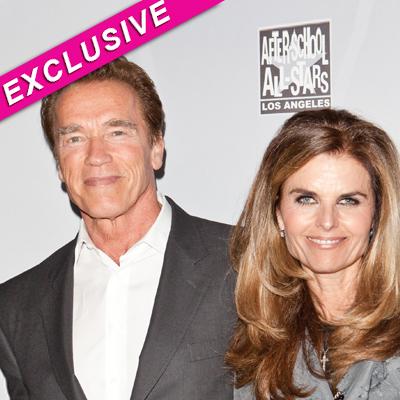 Arnold Schwarzenegger is paying child support to his estranged wife, Maria Shriver, even though the couple has yet to iron out any kind of financial agreement, RadarOnline.com is exclusively reporting.
Neither Arnold nor Maria has officially filed for divorce yet, but the former Governor of California has been paying his estranged wife "a significant amount of child support. Arnold is also paying for his sons, Patrick and Christopher's private school bills," a source close to the situation tells us.
Article continues below advertisement
"Even though Maria is a Kennedy, and has inherited a great deal of money from her parent's estate since their deaths, she is taking the child support. Under California law she is entitled to the child support, once either one of them files for divorce. Maria and Arnold's lawyers have been working on a divorce settlement but in the meantime Arnold is willingly paying the money to Maria."
Shriver's lawyers have hired forensic accountants to get an accurate net value of Arnold's worth. "Maria wants to get a fair divorce settlement, and move on with her life. She has already begun to do so. She and Arnold talk quite often, it would surprise people how gracious Maria is being about the entire situation. Maria doesn't want the kids to suffer because of stupid decisions their father made, and she encourages them to be honest about their feelings. Arnold has made tearful apologies to his children for his indiscretions," the insider tells RadarOnline.com.
In a sure sign of beginning to move on with her life, Maria attended U2's concert at Angel Stadium in Los Angeles on Friday night, with her brother Bobby.
"For Maria Shriver who's here tonight!" Bono screamed as he dedicated Pride (In The Name of Love) to his close friend and former First Lady of California.
RELATED STORIES:
Arnold & The Maid: It Wasn't A One-Time Thing