Arkansas Gay Man Devastated Over Obit Omit After Partner's Death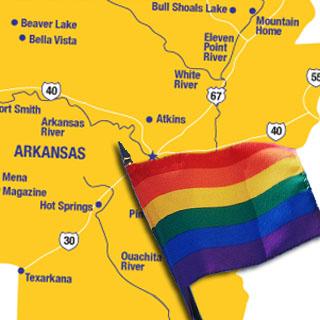 By Amber Goodhand - RadarOnline.com Reporter
While New York state is progressing in the gay rights movement, it seems Arkansas has fallen behind.
Terence James was devastated after his life partner of 10 years, John Millican, passed away -- but he hasn't even had a chance to mourn yet because when his local Arkansas newspaper purposely omitted his name from Millican's obituary, it left him heartbroken all over again.
Article continues below advertisement
"Losing John alone was devastating and unexpected and sort of brought me to a different realm of existence," James told RadarOnline.com in an exclusive interview.
"I went down to the funeral home to make sure I was filling out everything correctly...I never dreamed for a second that they would do something so vile and wretched as to exclude me."
James, 41, listed his name as the surviving partner in the obituary paperwork he filled out for the Batesville Daily Guard but without notifying him, they omitted his name when it ran in the paper.
At first the paper promised to apologize, but instead printed a full page editorial the next day explaining that James was left out of the obituary simply because it is in their policy not to include life partners in their free obituaries, nor do they include in-laws or ex-spouses.
The Guard said James was told by the funeral home "REPEATEDLY" that he would not be included in the obituary and accused him of giving out false information in an effort to "promote his own AGENDA."
Article continues below advertisement
"The Guard does not owe Mr. James a free obituary or an apology," they concluded.
"I definitely think an apology at the least is what they can offer. Rather than receiving justice, I received a full page of slander and liable lies about me," James said.
James also attempted to have their two cats listed as daughters and their dog listed as a son in Millican's obituary, which was also removed due to policy according to the Guard.
"We deal with the death of loved ones on a daily basis and our established policy allows us to do that with consistency. Listing pets as children is a direct slap in the face to every grieving parent who has buried a child, young or old," the newspaper wrote.
"I explicitly inquired about including our pets because we worshiped them and was told it was unlikely, but was encouraged to include them," James said.
Article continues below advertisement
The Gay and Lesbian Alliance Against Defamation has called on the public to fight against this injustice, calling the newspapers actions "damaging and mean-spirited."
Top Hollywood Stars Who Are Gay Or Bisexual
"In a small and bizarre sense it's almost been a blessing — I encountered instances where I didn't exist in John's life, but they weren't a surprise and were characterized by a powerlessness to change them in an immediate sense...so much frustration, anguish and helplessness. But here finally, there's an opportunity to enact change and I can do something about it for once," James told RadarOnline.com.
"The possibility that I can affect change and prevent somebody else from receiving that slap in the face means a lot to me, as it would John. Whether he has any reception of these occurrences or not, I take great solace in knowing how proud he would be."
James is quick to point out that he doesn't see this incident as a strictly gay issue, but distinctly a human rights issue.
"An obituary is not the proper forum to play out the politics of hate," James said.
Article continues below advertisement
Celebs Who've Come Out As Gay Or Bisexual
"I strive to approach homophobes with pity and compassion because not only does that push me to be a better human being, but it behooves the gay movement as a whole."
James told RadarOnline.com he wants a change in the newspapers policy and he's hoping with human rights organizations like GLAAD on his side, he'll get it.
"The most important thing to me ultimately is a change in policy," James told RadarOnline.com.